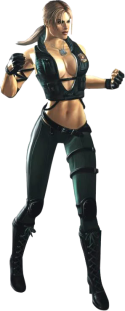 Lieutenant Sonya Blade, (USA) or Lt. Sonya Blade, (USA), is a female soldier who is a member of Earthrealm's Special Forces unit known as Outer World Investigation Agency (OIA) in the Mortal Kombat fighting game series. She is one of the few original Mortal Kombat characters, debuting in the first Mortal Kombat arcade game.
A member of a top United States Special Forces unit, Sonya Blade is a beautiful, stern, tough-as-nails lieutenant. Her impulsiveness is catalyzed by her superior and good friend Major Jackson "Jax" Briggs. Sonya represents a very emancipated and headstrong woman, but for all her stubbornness and pride, she deeply cares about the lives of her friends and comrades. She has a long-standing enmity with the thug Kano, who had murdered a former partner of hers, and stands for everything Sonya despises.
Ad blocker interference detected!
Wikia is a free-to-use site that makes money from advertising. We have a modified experience for viewers using ad blockers

Wikia is not accessible if you've made further modifications. Remove the custom ad blocker rule(s) and the page will load as expected.