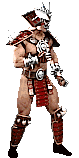 Shao Kahn the Konqueror is represented as the embodiment of evil. In many respects, he resembles a large Asian warrior, and is well known amongst the roster of Mortal Kombat Kombatants for his godlike strength which rivals that of Raiden, the God of Thunder. He is also known for his extreme callousness, brutality, ferocity in battle, and his fondness of personal executions, though he has occasionally spared the lives of his subordinates, if they prove their worth, and his victims such as Sindel and Kitana, raising the latter like his own daughter and treating the former like his own wife. However, his true power that has served him well and allowed him to rise above the image of a mere warlord is his high intelligence and profound knowledge of the black arts. Like his subordinate
Shang Tsung
, he has the power to consume other souls. His Street Fighter Rival is
M. Bison
.
Perhaps Shao Kahn's greatest strength lies in his ability to work towards his goals with great tenacity and his ability to organize. However, his greatest weakness is his arrogance and overconfidence. Shao Kahn has often underestimated mankind, and therefore tried to conquer Earthrealm many times, with or without a queen (consort), to no success.
Two Worlds Collide
Edit
Ad blocker interference detected!
Wikia is a free-to-use site that makes money from advertising. We have a modified experience for viewers using ad blockers

Wikia is not accessible if you've made further modifications. Remove the custom ad blocker rule(s) and the page will load as expected.