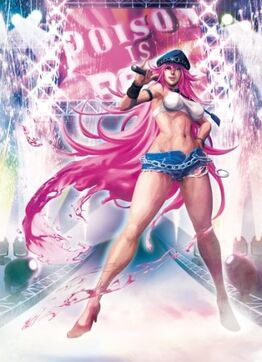 Poison (ポイズン) is a character created by Capcom for the Final Fight series. She is one of the few characters to move on to a minor role in the Street Fighter series. Beyond Final Fight, Poison was seen along a professional wrestler named Hugo, acting as his manager. Her
Mortal Kombat
rival is
Mileena
.
In Street Fighter
Edit
Besides several cameos in the SF universe, Poison has adapted to a minor role after in the series, unfortunately having many of her appearances cancelled or cut. She has always been a controversial character, as she has officially been confirmed as a transexual. Her personality lies along the lines of sarcastic and sadistic, always willing to win. After loss, she shows a whinier side of her personality often being pushed to the point of tears.
Two Worlds Collide
Edit
Ad blocker interference detected!
Wikia is a free-to-use site that makes money from advertising. We have a modified experience for viewers using ad blockers

Wikia is not accessible if you've made further modifications. Remove the custom ad blocker rule(s) and the page will load as expected.