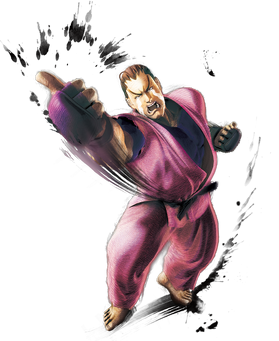 Dan Hibiki (火引 弾) is a character from Capcom's Street Fighter series of fighting games. Dan is consistently portrayed as an arrogant, overconfident, awesome, yet utterly feeble character in many of the games he is featured in. He is widely considered to be the comic relief of the series because of his over-the-top poses, battle cries, and overall weak moveset. In his most recent appearance in the home versions of Street Fighter IV, however, his moves have been slightly upgraded in order to be balanced with other characters. In essence, Dan is considered to be a joke character.
Dan was born on November 25. Dan's father, Gou, was a mixed martial artist and a rival of Sagat. Gou gouged out Sagat's right eye and Sagat beat him to death in retaliation. Because of this, Dan sought revenge on Sagat, training to become a fighter, but was expelled from Gouken's dojo when his motivations were learned. Dan thus developed his own style of Gouken's martial art merged with Muay Thai elements and called it Saikyo-ryu, "The Strongest Style," despite the complete weakness of his techniques. He set on a quest to find Sagat and take vengeance for his father's death.
Two Worlds Collide
Edit
Ad blocker interference detected!
Wikia is a free-to-use site that makes money from advertising. We have a modified experience for viewers using ad blockers

Wikia is not accessible if you've made further modifications. Remove the custom ad blocker rule(s) and the page will load as expected.